Living means helping others to live
Letter to Friends Around the World #72
From Camp Dandara in Brazil, where families are rebuilding their lives, to Ilo, Peru, where domestic workers come together to share their know-how, this issue of the Letter to Friends presents actions made possible though links of friendship, trust and compassion.
"The hopes of these children…a right, not a dream." This is the last sentence of an article published in a journal that enables children from different backgrounds to express themselves. "A right, not a dream", this isn't decreed by law, it is built up through links at the grass-roots level, friendships, links of understanding, trust and compassion, links through action too. The articles in this Letter express this in different ways and in different contexts.
"When it rains at night, my heart sinks and I have trouble sleeping as I think of families in very poor neighbourhoods."
"They've learned to defend their rights…and they've committed themselves to defending the rights of other women."
"People are beginning to stand up. Our struggle will not be in vain."
"Brigitte (a 4 year old girl suffering from cerebral paralysis) is, for me, a strong example of perseverance in her struggle for life."
"Despite all the difficulties, the community has succeeded in creating and maintaining an ambiance of friendliness, and is organized towards building its own future."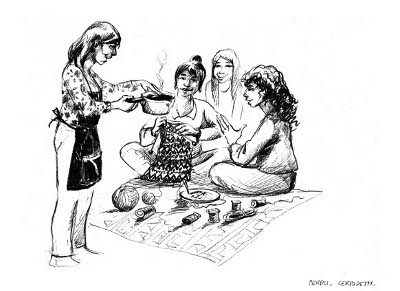 The reactions we received to the International Convention on the Rights of the Child (page 4) are in the same vein. Although they describe serious, painful, unacceptable situations, they reveal the courage of the men and women experiencing them, who refuse to accept them and lead others to do the same. "Nothing is possible in this world without solidarity; living means helping others to live." Through this plea, young people lead others to act in favour of children in difficulty.
Living means helping others to live, having ambitions for everyone.
Huguette Redegeld
* * * * *
In this issue of the Letter to Friends (click below to download it), you will discover concrete efforts being made in Brazil, Peru and Ecuador, as well as comments from committed people in Ivory Coast, Italy, Egypt, Democratic Republic of the Congo, and elsewhere.
Would you like to regularly receive the Letter to Friends Around the World by email? Contact us.
Documents