Haitians trust us because we act together
One year after the earthquake, families in many Port-au-Prince neighborhoods - including Grande Ravine where ATD Fourth World is active - have not seen much action from the Haitian state or international aid. The Movement and its local partners are continuing to support the population on a daily basis.
Jacqueline Plaisir and David Lockwood are permanent volunteers at ATD Fourth World. After having spent nine years in Port-au-Prince, they are beginning a new mission in the Dominican Republic which will be linked with Haiti, as the countries are neighbors.
Today, have we gone from emergency aide to reconstruction?
Exactly. Now the emergency project is reconstruction, but to do that, there must be consultation and dialog with the population. Reconstruction projects are few and far between, or perhaps we should just say, not too visible. The election period put quite of few of them on hold.
Have the Grand Ravine inhabitants where the Movement is anchored found a normal access to food once again?
That's true. It was especially in the few weeks that followed the earthquake that there wasn't enough food to go around. In July, the United Nations admitted that it had continued massive food distribution for too long, leading to unrest in the population. Haitians are used to getting by themselves day by day to find enough food. What is the most important for them is to find ways of making money. The "Cash for Work" and "Cash Transfer" projects had a larger impact and allowed more people to live with dignity.
Were the families that you know impacted by international aid?
Thanks to our support, 700 of them took part in "Cash for Work" and 500 were assisted in starting up small businesses. These projects were stopped in our neighborhood in July or August. Then schools started up again, with aid for the cafeteria and scholarships, but the Grand Ravine families did not receive this. The Grand Ravine public school has been running for three years and has more than 700 students, but some teachers have not been paid. And this is a reference for families, and it needs greater support.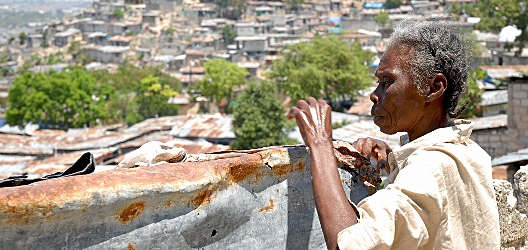 And since schools have started up again, international aid has been focused on another emergency.
That's right, on the cholera epidemic. This epidemic has a lot of impact on daily life. We are participating in prevention and health care with the Saint-Michel Health Center, International Medical Aid, the Italian NGO AVSI, Unicef and Doctors Without Borders.
So what does "reconstruction" mean for inhabitants of Grand Ravine? There are a few projects to rebuilt 400 to 500 houses for families living in the refugee camps, but the steep slopes of Grand Ravine will prohibit any massive reconstruction projects. Here each family hopes to be assisted in improving their existing house. This summer we distributed sheet metal and wood to about thirty families, after having met with them to access their needs and to discuss what they wanted to do. We met in a calm and discreet area in the neighborhood, away from other houses. But it still was pretty complicated. One man stole several metal sheets. About half of the families however, were able to redo their roofing. Since then, we've decided to give the same amount of material to each family. There was a second distribution in October or November in the Fourth World House, but that was difficult too. Everything has to be done to keep peace and solidarity among families living in this community.
How are you able to mitigate tensions between families that you are helping and the others?
We have been in regular contact for years with several hundreds of families with our "Welcome baby" and (1) pre-school actions. These links help us think about ways to operate with the families involved. When there is a distribution, families talk with other families. Everyone can understand why one family was chosen and another one was not. Families who are not directly impacted hope that this action will progress, and that they will also be involved in the future, because they also are in true need. They trust the way we do things.
It's still very fragile.
We have a permanent dialog on-going with families that know us, but also with families that we don't know very well. During the "Cash Transfer" and "Cash for Work" projects, some people told us that they shared with others what they had received, as a gesture of solidarity and lucidity: we know that everyone needs something, but that we cannot give to everyone at the same time.
How are the Grand Ravine families coping with the electoral period?
They say that chance is needed in the country, they want democracy, but that it is not easy to believe what candidates are promising. There is violence in every poor neighborhood each time there are elections. Then there's cholera too. So it's not easy to be able to vote with these conditions, so that's another source of frustration.
What message would you like to give to those who are supporting ATD Fourth World in Haiti? The trust of donors allows us to continue our dialogs with families, to continue our main projects that the government is not currently able to assume. We want our actions to reach more and more people to be formalized and sustainable. Moreover, the team is endlessly faced with emergency situations and distress that we respond to in a way that is difficult to formalize.
When we're outside of the country, we mostly see Haitians suffering.
That's true. But at the same time, right now our teams are helping to prepare Christmas. There is a real party atmosphere. Children, parents, teenagers; they all want to take part in this joy. In pre-school, parents could come to see their children and see how much they had progressed since they began school. These things that all the children in the world do in pre-school classes, their kids also do them, even though the context is quite chaotic. Haitians who believe that the world and their country can change need donors to trust them. The money we receive isn't just money. It's the sign that families in Haiti are important for other families in the world.
Sometimes we think that this support isn't really helping the situation to change.
Even if everything doesn't change all at once, it contributes to change. Children who can go to Pre-School, parents who have health cards because of ATD Fourth World - what we promise to do, we do it. And the relief that this represents has a big ripple effect. We know a lady who has a three year old handicapped child and another one who is four. Each time her child has an epileptic seizure she has to get emergency care. Without her health card, it would be impossible.
Plus she knows that she is not alone in trying to save her child.
During the holiday period, she was there with her child in her arms and said: "Look how cute he is!" It's this life, with all its emotions, and true joys in the midst of all this misery, that allows people to live with dignity, meaning without constantly being afraid, surrounded by friends, with a health center and a school for their family members, with the feeling that they are a part of the society. The country will change; it is not possible that all these actions that impact the lives of so many families don't have a larger impact.
Interview by Jean-Christophe Sarrot and Bruno Couder.
Were you touched by this article? Would you like to support these actions? You can make an on-line donation with your credit card on our bank's secure site.
I want to donate