About us
>
What are we doing?
>
Informing and mobilizing citizens, civil society, the authorities and institutions.
>
European Solidarity Caravans
Caravan 2 in Poland : We count the farandoles but each farandole counts.
Story of a meeting in Strzelce-Opolskie
Our first stop in Poland brings us in the small town of Strzelce-Opolskie, where we were welcomed in the Barka community. In this place people who have lived on the streets and people who come out of prison live together. We took this opportunity to animate a couple of workshops on the town square.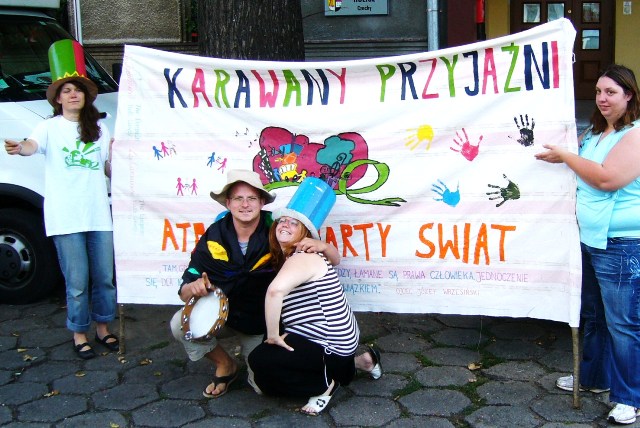 Here is the account of a meeting that took place during a farandole workshop. A "farandole" in our jargon is a cloth on which adults have the possibility to express themselves on issues that seem important to them to share with others. All of the farandoles will be displayed in Paris around the Trocadero on the 17th of October.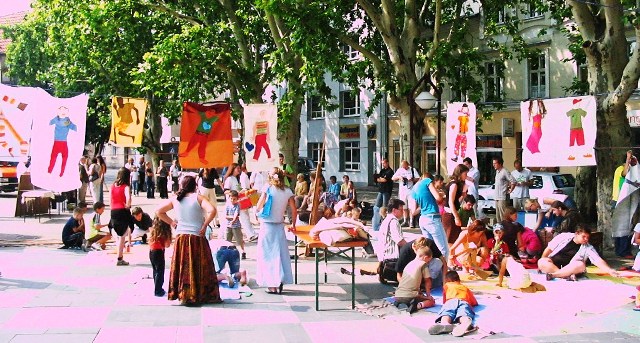 ---
I saw a Rom family sitting on a bench. Some of the children from this family were taking part in the silhouette workshop (a workshop organised for children). With my few Polish words, I went to invite the adults to participate in the farandoles. Only one woman followed me. She began her farandole but after ten minutes she had the impression that what she was creating wasn't so beautiful and that she wasn't going to manage it.
I tried to retain her, but lacking the words in Polish or German (she spoke German because her family was travelling around Germany when she was young, before settling in Poland), I wasn't able to do it. She went back with her family, she was angry, almost humiliated by this failure. I asked Christopher, a young polish who has helped us a lot with translations, if he wouldn't mind talking to her. But even he wasn't successful: she really didn't want to continue. This situation made me sad and I felt powerless. It makes me sad each time I see someone suffering the humiliation of not managing to finish what everyone manages to do. I thought over it for a couple of minutes and finally I decided to ask a young girl who understood English to write for me the following sentence in Polish: "Jestem smutna bo wazne jest dla mnie co mowisz": "I am sad because what you can say is important for me".
I learned to pronounce it and then I went back to see the woman who was still sitting on the same bench. I whispered to her the sentence in a way that she could be the only one to hear it because some of the Rom children had previously made fun of her. I wasn't necessarily expecting that she would come back. At least I wanted her to know that her departure did not leave me indifferent, and that I wasn't just going to move on to someone else and forget her like that. Yet, she made me understand that she really didn't want to come back so I left.
But, a quarter of an hour later, she came back and explained that if I helped her she would like to continue. It ended up that I barely helped her because she knew how to do everything on her own. In the end it was her who pulled away my hands so that I would stop helping her. I sat next to her the whole afternoon. She didn't know how to write. She gave us her message orally and we wrote it for her. In English it would be: "I would like everyone to get along with one another better and that we all respect each other".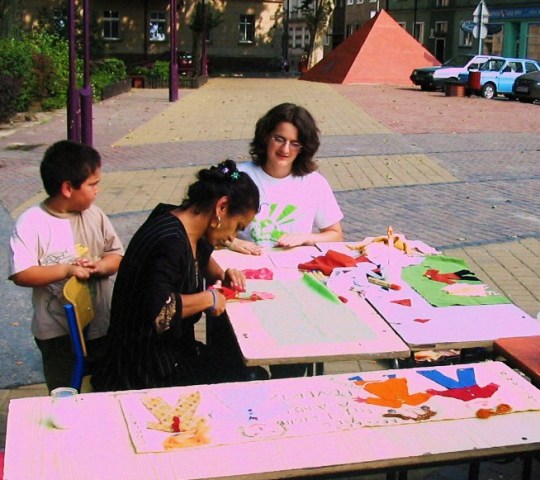 Just before leaving she showed her farandole from far away to her family with a big smile. No one laughed, some applauded.
So there you go: when we say that everyone, and perhaps above all those for whom exclusion is the hardest, need to feel that what they say and think is important for others, these are not vain words…
Louise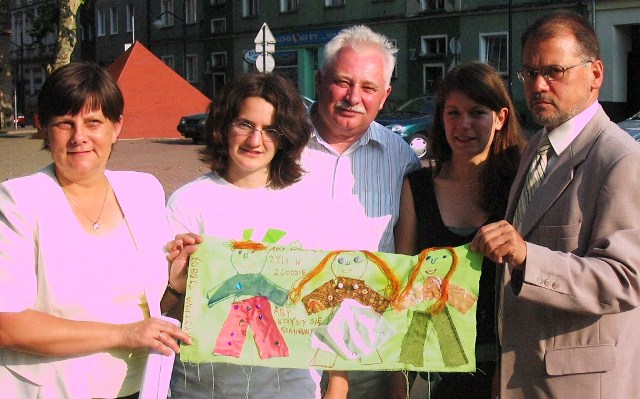 Some others photos of Strzelce-Opolskie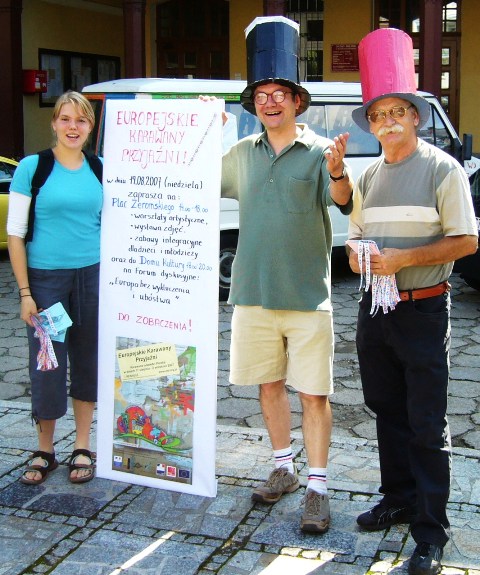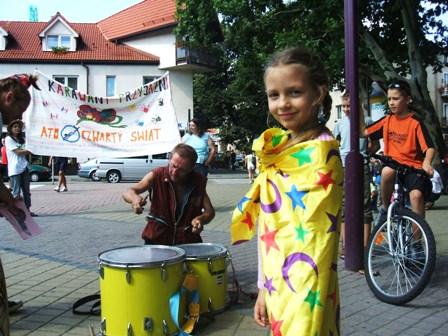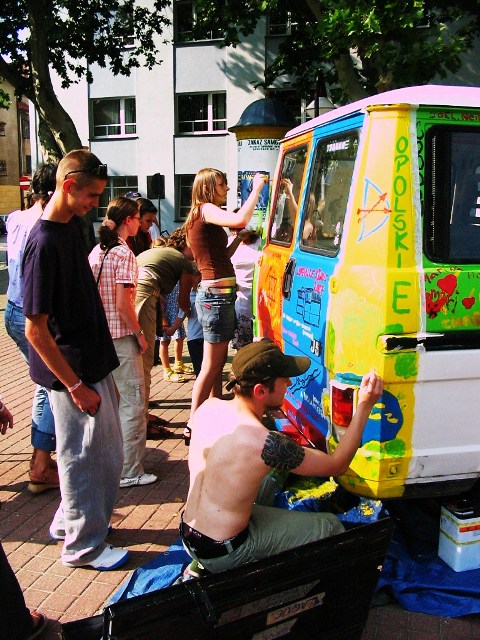 ---
Don't forget that the most important for us is to exchange and share what we are experiencing. So don't hesitate to send us an email with your comments, questions and suggestions at caravanes2@atd-quartmonde.org
Thanks. We hope to hear from you soon !